Posted:
January 22nd, 2009 |
Author:
perplitudine
|
Filed under:
1982
,
1989
,
Milano
,
Politics
|
Comments Off

on LaLunaSottoCasa LibrariesGaveUsPower
[IT] Un blog multilingue. Scrollate finche' non vi diventa intelligibile. Grazie.
[EN] A multilingual blog. Scroll until it becomes intelligible to you. Thanks.
[HR] Visejezicni blog. Scrollajte dok vam ne postane razumljiv. Hvala.
"Libraries gave us power…" (Manic Street Preachers)
[IT]
Stamattina mi e' giunta la
notizia che del Conchetta (Cox18) sotto sgombero. Spero che si risolvera'
tutto in qualche modo… E' un luogo storico di Milano che e'
l'intreccio di tanti progetti e percorsi, compresa una libreria,
centro documentazione (Archivio Primo Moroni), ecc. Ci sarebbero tanti temi da affrontare, ma
e' troppo difficile, sono concetti contraddittori che mi sfuggono
ancora. Allora prendo dallo scaffale il libro di John N. Martin e
Primo Moroni, a cura di Matteo Schianchi, "La luna sotto casa,
Milano tra rivolta esistenziale e movimenti politici", Milano,
Shake Edizioni, 2007. Oggi non ho tempo per aggiungere le citazioni e
riflessioni, e poi sarebbe da fare con calma e attenzione, magari un
giorno. Dopo "Continua" c'e' la copertina del libro scansionata e
una mappa del punk a Milano dal 1982 al 1989. Il puntino numero 11 e'
Conchetta.
[[[ PS ]]] LINK: Guardate il video dove Gomma e Atomo raccontano "La stanzina punk alla Calusca di Primo Moroni" (c'e' anche del testo e alcune foto interessanti).
[EN]
This morning I heard the news of the ongoing
eviction of the social center Conchetta (Cox18). I hope it can all be
resolved some way… It is a place, in Milan, of historical
importance, a node that links many projects and "percorsi"
(routes, journeys), including a bookshop, a documentation center (Archivio Primo Moroni),
etc. There would be many topics to cope with, but it's too difficult,
the concepts are contradictory and still escape me. So I go to my
bookshelf and take the book by John N. Martin and
Primo Moroni, edited by Matteo Schianchi, "The moon on the doorstep
(?), Milan between existential revolt and the political movements"
("La luna sotto casa, Milano tra rivolta esistenziale e movimenti
politici"), Milano, Shake Edizioni, 2007. I have no time today
to add citations and thoughts on it, and it's also something that
would require care and attention, maybe some other day. Beyond "Continua" you can see the scanned book cover and a map of punk
in Milan from 1982. to 1989. The dot number 11 is Conchetta.
[HR]
Jutros mi je stigla vijest
da se u socijalnom centru Conchetta (Cox18)  odvija prisilno iseljenje. Nadam
se da ce se sve nekako rijesiti… To je jedno povijesno mjesto u
Milanu, gdje su se isprepleli razni projekti i "percorsi"
(putovi, staze), ukljucujuci i knjizaru i centar za dokumentaciju (Archivio Primo Moroni),
itd. Bilo bi mnogo tema s kojima se sad suociti, ali to je pretesko,
koncepti su kontradiktorni i izmicu mi. Tako da cu radije procitati
knjigu, "Mjesec ispred kuce, Milano izmedju egzistencijalne
pobune i politickih pokreta", autori Johna N. Martin i Primo
Moroni, urednik Matteo Schianchi, ("La
luna sotto casa, Milano tra rivolta esistenziale e movimenti
politici"), Milano, Shake Edizioni, 2007. Danas ne stignem
staviti citate i zabiljeske, a i nije nesto sto se uradi tek tako,
zahtjeva paznju, mozda neki drugi put. Iza "Continua" skanirana
naslovnica i jedna mapa punka u Milanu od 1982. do 1989. Tocka broj 11 je
Conchetta.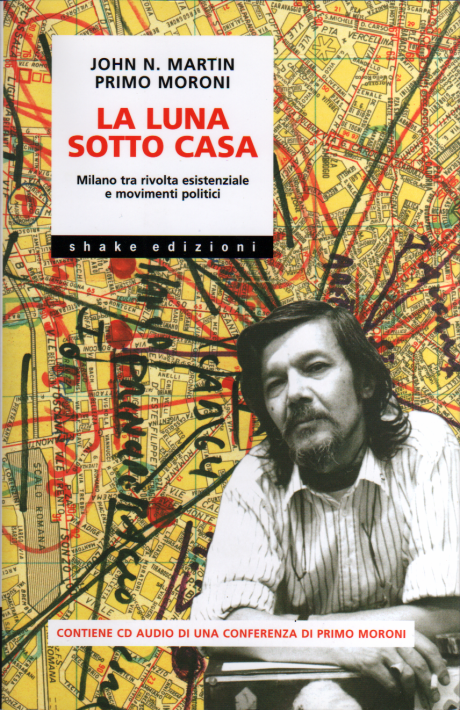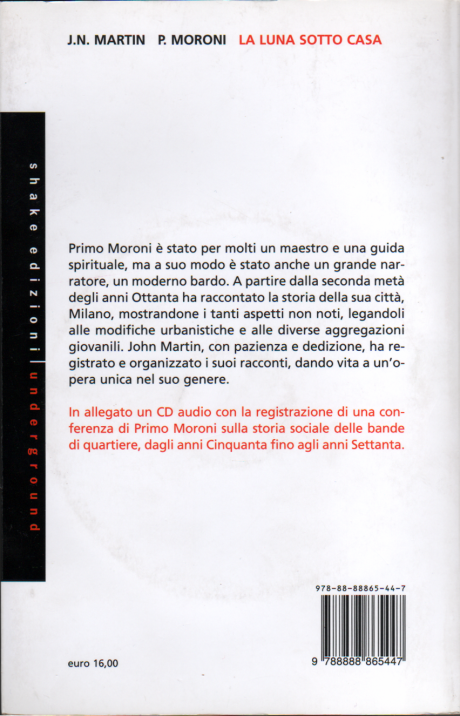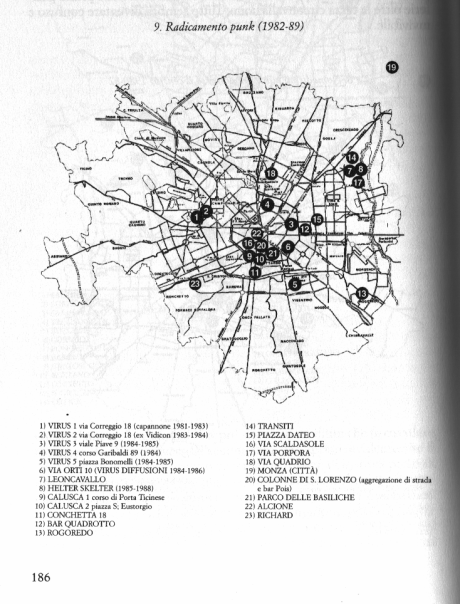 (clicka la mappa per la risoluzione piu' altra,
click the map for the hi-rez version,
clicka mapu za vecu rezoluciju)
---