Posted:
February 2nd, 2009 |
Author:
perplitudine
|
Filed under:
Milano
,
Politics
|
Comments Off

on 2009FEB01 Mercatino BioDIY xCox18 Photo
[IT] Un blog multilingue. Scrollate finche' non vi diventa intelligibile. Grazie.

[EN] A multilingual blog. Scroll until it becomes intelligible to you. Thanks.

[HR] Visejezicni blog. Scrollajte dok vam ne postane razumljiv. Hvala.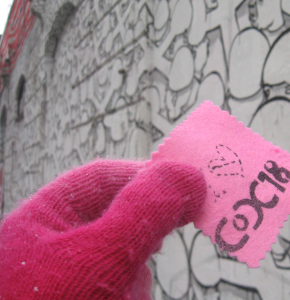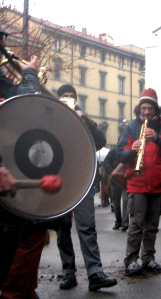 [IT] Come forse sapete gia', Cox18, un
posto/progetto che ha contribuito in modi interessanti alla vita
culturale milanese (con anche libreria Calusca, archivio Primo Moroni, e cosi' via), e' stato sgomberato ([IT], [EN], ecc.). Si spera ancora che la situazione possa migliorare, e
intanto si svolgono diverse attivita', come le proteste, una
petizione ed eventi. Domenica, 01 febbraio 2009 c'e' stato un
mercatino biologico e delle autoproduzioni, nella via, per ricordare
il potenziale creativo del luogo, un po' ridotto numericamente dalla
terza nevicata di quest'anno. Piu' foto oltre il "Continua".

[EN] As you may already know, Cox18, a
place/project which has contributed in interesting ways to the
culture of Milan (including the Calusca bookshop, the Primo Moroni archive, and so on), has been evicted ([IT], [EN], etc.). One can still hope that the situation may improbe, but
in the meantime there are different activities, like protests, a
petition and events. Sunday, on the 1st of February, 2009,
there has been a bio-DIY market in the street to remind of the
creative potential of the place, numerically a bit riduced for the
third snow of the year. More photos beyond "Continua."

[HR] Kao sto mozda vec znate, Cox18, mjesto koje je doprinijelo na zanimljive nacine kulturnom
zivotu Milana (ukljucujuci i knjizaru Calusca, arhiv Primo Moroni, i tako dalje), je delozirano ([IT], [EN], itd.). Mozemo se nadati jos uvijek da ce se situacija
popraviti, i u medjuvremenu se zbivaju razne aktivnosti, kao
prosvjedi, peticija i dogadjanja. Nedjelju, 01. veljace 2009. je
organizirana bio-DIY trznica (u ulici kao podsjetnik na kreativni
potencijal tog mjesta, brojcano malo slabiji radi treceg snijega ove
godine. Vise slika nakon "Continua".
---