Posted:
March 31st, 2009 |
Author:
perplitudine
|
Filed under:
Croatia
,
Magazines
,
PlanB
,
Portfolio
,
Translation
,
_NonFiction_
|
Comments Off

on Plan B n18 Internet Translation March2009 Cogito Ergo Sub
[IT] Un blog multilingue. Scrollate finche' non vi diventa intelligibile. Grazie.

[EN] A multilingual blog. Scroll until it becomes intelligible to you. Thanks.

[HR] Visejezicni blog. Scrollajte dok vam ne postane razumljiv. Hvala.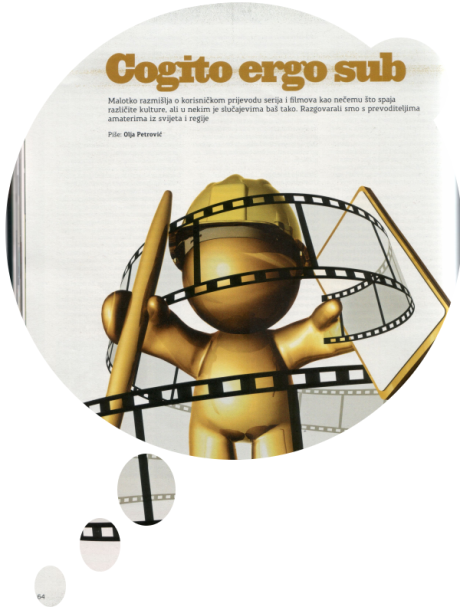 [IT] E' uscito in Croazia, nel
numero 18 [planb.com.hr, borja.org] della rivista Plan B [site], il 15 di marzo, il mio articolo sui
traduttori non-professionisti in internet, con particolare accento alla
traduzione delle serie TV. Come sottotitolo e' stato aggiunto, dalla
redazione: "In pochi pensano alla traduzione da parte degli utenti
delle serie e dei film come di qualcosa che connette diverse culture,
ma in alcuni casi e' proprio cosi'. Abbiamo parlato con traduttori non-professionisti in internet dal mondo e dalla regione." Per vedere le scansioni
(altra risoluzione, ma in croato), o leggere il riassunto dell'articolo e
qualche curiosita' sul resto del numero, seguite il collegamento
"Continua." Le traduzioni (in italiano e inglese) verranno dopo.
[EN] The issue 18 [planb.com.hr, borja.org] of the
magazine Plan B, of the 15th of March, published in
Croatia, contains my article about amateur translation on the
Internet, with a particular accent on the translation of the TV
series. As the subtitle it was added, by the redaction: "Few think
of translation by users of series and films as something that
connects different cultures, but in some cases it is exactly like
that. We have spoken to amateur translators from around the world and
the region." To see the scans (readable, but in Croatian), or read
the summary of the article and some curiosity about the rest of the
issue, click "Continua". The translations (in English and
Italian) will be added later.
[HR] Izasao je u Hrvatskoj, u
broju 18 [planb.com.hr, borja.org] casopisa Plan B, 15. ozujka, moj clanak o amaterskim
prevodiocima na internetu, sa posebnim naglaskom na prevodjenje TV
serija. Kao podnaslov redakcija je dodala: "Malotko razmislja o
korisnickom prijevodu serija i filmova kao necemu sto spaja razlicite
kulture, ali u nekim je slucajevima bas tako. Razgovarali smo s
prevoditeljima amaterima iz svijeta i regije." Za vidjeti
skenirane stranice (citljive: ovdje i ovdje), ili za procitati kratki sadrzaj clanka
i pokoju zanimljivost o broju opcenito, slijedite link "Continua".
Prijevodi (na talijanski i engleski) ce doci kasnije.Na forum.hr Plan B mozete komentirati ovdje, autori i redakcija to prilicno prate.
LINKS

http://www.italiansubs.net || http://www.subsfactory.it
|| http://www.freefans.net
http://www.subscene.com || http://www.opensubtitles.org/hr || http://www.subtitlesource.org/
http://www.divxsubtitles.net/ || http://www.dvd4arab.com
(Arabic) || http://www.startimes2.com
(Arabic)
http://en.wikipedia.org/wiki/Little_Mosque_on_the_Prairie
http://www.legendas.tv
(Brazil) || http://www.islifecorp.com.br/
(Brazil) || http://www.docspt.com (Portugal, documentaries) ||
http://www.nsubs.com (Portugal)
|| http://www.pt-subs.net (Portugal)
http://www.swsub.com
(France) || ttp://www.dattebayo.com
(Holland, anime)
---